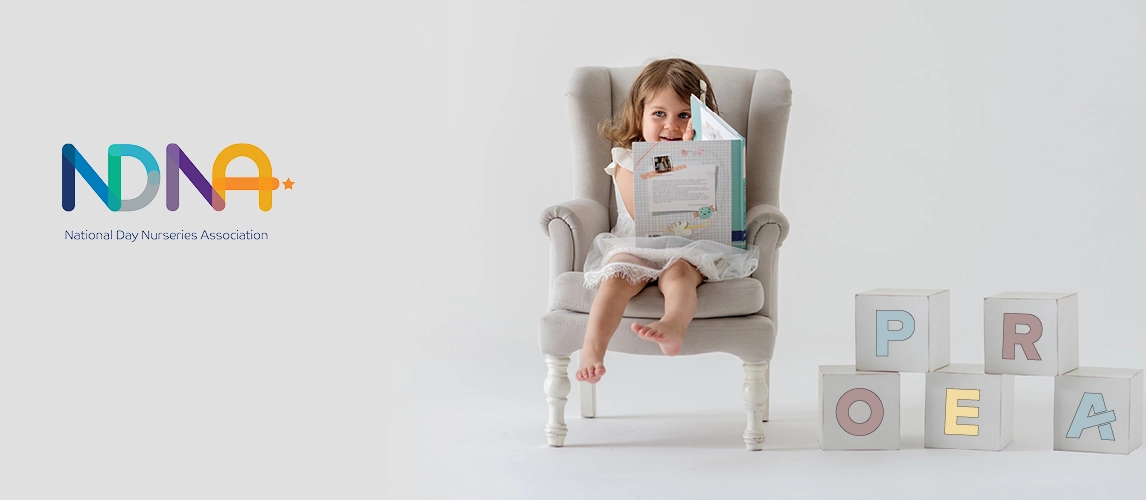 A perfect blend of national
curriculum and British
education philosophy Early Years
Foundation Stage
A perfect blend of national
curriculum and British
education philosophy Early Years Foundation Stage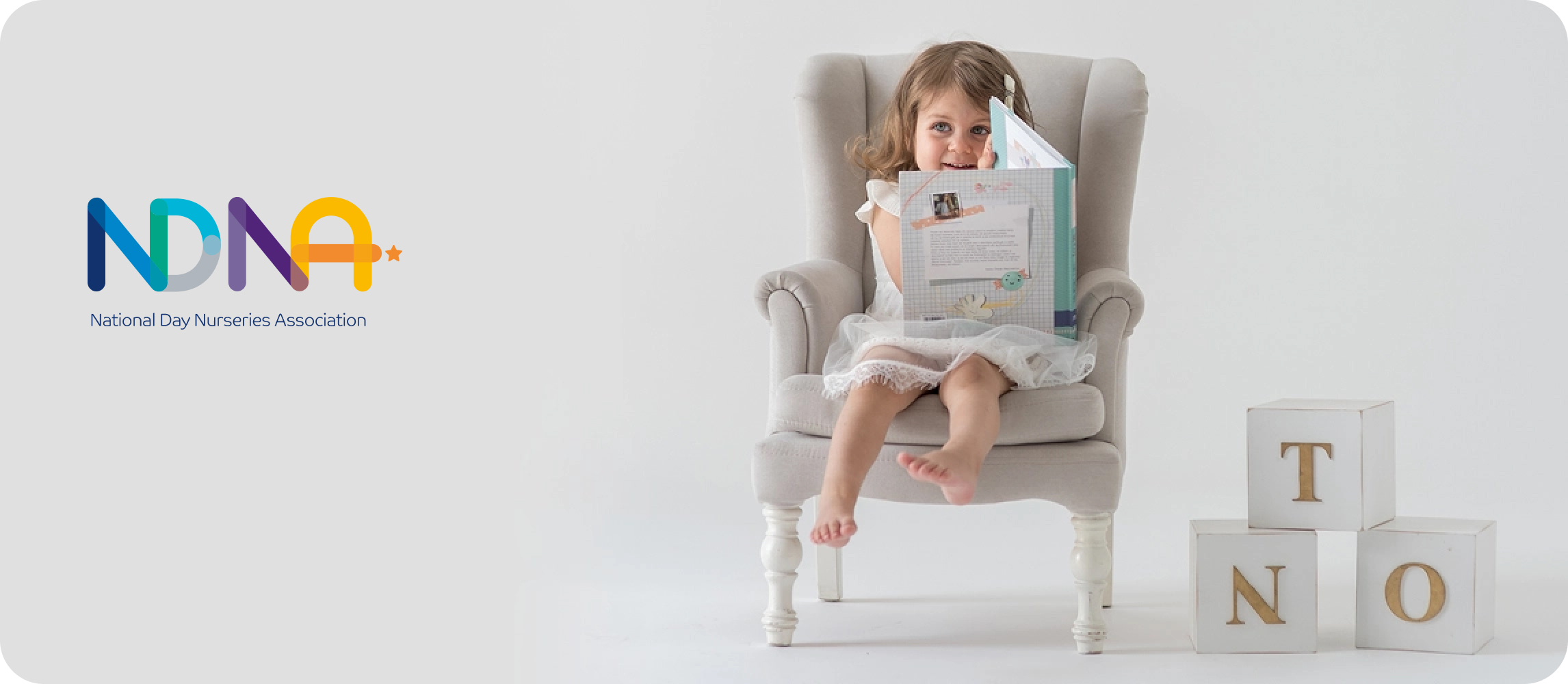 British
curriculum education
Early Years Foundation Stage Principles
The uniqueness of the child
Every child is competent and capable from birth and can grow up to be resilient and self-confident with appropriate guidance in this regard. At Opera Kids, we treat all children equally, regardless of race, religion, and value all children and families in our community.
Children learn to be strong and independent through loving and secure relationships with their parents, teachers and classmates. In this sense, we appreciate the significant parents' contribution to the education of their children, considering them partners in the process of raising and developing their children. At Opera Kids, we encourage the development of respectful relationships between team members, parents and children.
Children learn and develop harmoniously in an environment where they are loved, understood and cherished.
Children develop and learn in different ways, which is why the concept of education in Opera Kids kindergarten is personalized, based on the needs and individual abilities of each child. The team members are ready to make sure that your child's first educational experience is happy, fun and safe, and that his or her developmental and care needs are fully met.
Highest qualifications confirmed by international certificates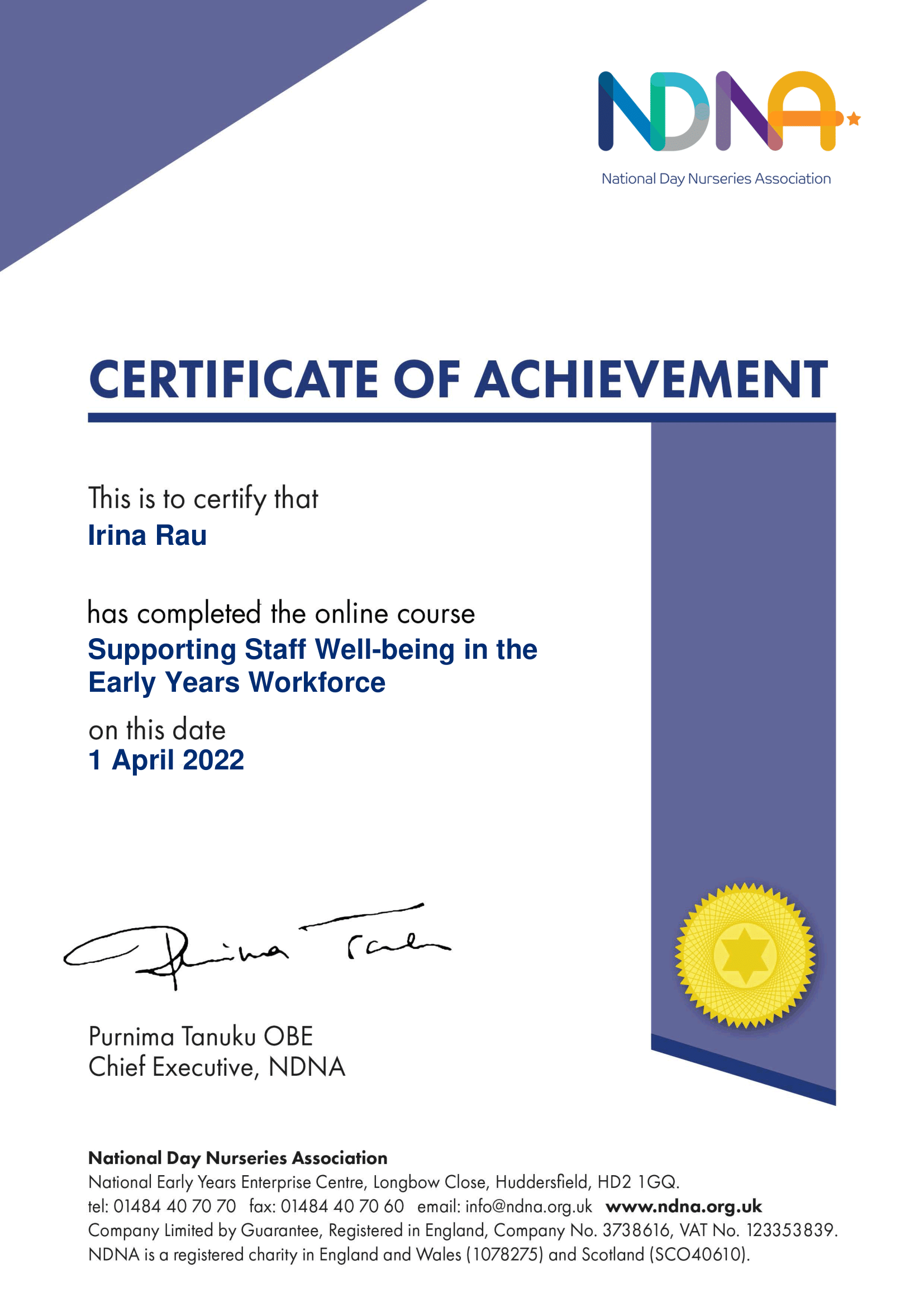 Why is the Early Years Foundation Stage cool?
| | |
| --- | --- |
| 8:00 – 9:00 | Free choose activities |
| 9:00 – 9:30 | Breakfast |
| 9:30 – 9:45 | Morning gym |
| 9:45 – 10:00 | KUW- Knowing and Understanding of the World |
| 10:00 – 10:15 | Funny games |
| 10:15 – 10:30 | Environmental knowledge and Sciences |
| 10:30 – 11:00 | Sport time |
| 11:00 – 12:00 | Indoor/outdoor games |
| 12:00 – 12:30 | Dinner |
| 12:30 – 12:45 | Bedtime story |
| 13:00 – 15:00 | Nap time |
| 15:00 – 15:30 | Afternoon Snack |
| 15:30 – 16:00 | Workshops: Art&Craft, Sculpture&Cooking Club,Dramatic Art, Music&Dance Club |
| 16:10 – 17:00 | Indoor/outdoor games |
| 17:00 – 17:30 | Supper |
| 17:30 – 18:00 | Preparing to go home |
| | |
| --- | --- |
| 8:00 – 9:00 | Free choose activities |
| 9:00 – 9:30 | Breakfast |
| 9:30 – 9:45 | Morning gym |
| 9:45 – 10:00 | PD - Physical Development |
| 10:00 – 10:15 | Funny games |
| 10:15 – 10:30 | Speech education |
| 10:30 – 11:00 | Sport time |
| 11:00 – 12:00 | Indoor/outdoor games |
| 12:00 – 12:30 | Dinner |
| 12:30 – 12:45 | Bedtime story |
| 13:00 – 15:00 | Nap time |
| 15:00 – 15:30 | Afternoon Snack |
| 15:30 – 16:00 | Workshops: Art&Craft, Sculpture&Cooking Club,Dramatic Art, Music&Dance Club |
| 16:10 – 17:00 | Indoor/outdoor games |
| 17:00 – 17:30 | Supper |
| 17:30 – 18:00 | Preparing to go home |
| | |
| --- | --- |
| 8:00 – 9:00 | Free choose activities |
| 9:00 – 9:30 | Breakfast |
| 9:30 – 9:45 | Morning gym |
| 9:45 – 10:00 | PSED - Personal, Social and Emotional Development |
| 10:00 – 10:15 | Funny games |
| 10:15 – 10:30 | Mathematical Activity |
| 10:30 – 11:00 | Sport time |
| 11:00 – 12:00 | Indoor/outdoor games |
| 12:00 – 12:30 | Dinner |
| 12:30 – 12:45 | Bedtime story |
| 13:00 – 15:00 | Nap time |
| 15:00 – 15:30 | Afternoon Snack |
| 15:30 – 16:00 | Workshops: Art&Craft, Sculpture&Cooking Club,Dramatic Art, Music&Dance Club |
| 16:10 – 17:00 | Indoor/outdoor games |
| 17:00 – 17:30 | Supper |
| 17:30 – 18:00 | Preparing to go home |
| | |
| --- | --- |
| 8:00 – 9:00 | Free choose activities |
| 9:00 – 9:30 | Breakfast |
| 9:30 – 9:45 | Morning gym |
| 9:45 – 10:00 | CLL - Comunication, Language and Literacy |
| 10:00 – 10:15 | Funny games |
| 10:15 – 10:30 | Civic education |
| 10:30 – 11:00 | Sport time |
| 11:00 – 12:00 | Indoor/outdoor games |
| 12:00 – 12:30 | Dinner |
| 12:30 – 12:45 | Bedtime story |
| 13:00 – 15:00 | Nap time |
| 15:00 – 15:30 | Afternoon Snack |
| 15:30 – 16:00 | Workshops: Art&Craft, Sculpture&Cooking Club,Dramatic Art, Music&Dance Club |
| 16:10 – 17:00 | Indoor/outdoor games |
| 17:00 – 17:30 | Supper |
| 17:30 – 18:00 | Preparing to go home |
| | |
| --- | --- |
| 8:00 – 9:00 | Free choose activities |
| 9:00 – 9:30 | Breakfast |
| 9:30 – 9:45 | Morning gym |
| 9:45 – 10:00 | PSRN - Problem Solving, Reasoning and Numeracy |
| 10:00 – 10:15 | Funny games |
| 10:15 – 10:30 | Psycho-motor activity |
| 10:30 – 11:00 | Sport time |
| 11:00 – 12:00 | Indoor/outdoor games |
| 12:00 – 12:30 | Dinner |
| 12:30 – 12:45 | Bedtime story |
| 13:00 – 15:00 | Nap time |
| 15:00 – 15:30 | Afternoon Snack |
| 15:30 – 16:00 | Workshops: Art&Craft, Sculpture&Cooking Club,Dramatic Art, Music&Dance Club |
| 16:10 – 17:00 | Indoor/outdoor games |
| 17:00 – 17:30 | Supper |
| 17:30 – 18:00 | Preparing to go home |
| | |
| --- | --- |
| 8:00 – 9:00 | Free chosen activities |
| 9:00 – 9:30 | Breakfast |
| 9:30 – 9:50 | KUW - Knowing and Understanding of the World |
| 9:50 – 10:10 | Sport time |
| 10:10 – 10:30 | Speech education |
| 10:30 – 11:00 | Funny games |
| 11:00 – 11:20 | PSED - Personal, Social and Emotional Development |
| 11:20 – 12:00 | Indoor/outdoor games |
| 12:00 – 12:30 | Dinner |
| 12:30 – 12:45 | Story time |
| 13:00 – 15:00 | Nap time |
| 15:00 – 15:30 | Afternoon Snack |
| 15:30 – 16:30 | Workshops: art& craft, sculpture club, music&dance club, dramatic art |
| 16:30 – 17:00 | Indoor/outdoor games |
| 17:00 – 17:30 | Supper |
| 17:30 – 18:00 | Preparing to go home |
| | |
| --- | --- |
| 8:00 – 9:00 | Free chosen activities |
| 9:00 – 9:30 | Breakfast |
| 9:30 – 9:50 | CLL - Communication Language and Literacy |
| 9:50 – 10:10 | Sport time |
| 10:10 – 10:30 | Environmental knowledge and Sciences |
| 10:30 – 11:00 | Funny games |
| 11:00 – 11:20 | PD - Physical Development |
| 11:20 – 12:00 | Indoor/outdoor games |
| 12:00 – 12:30 | Dinner |
| 12:30 – 12:45 | Story time |
| 13:00 – 15:00 | Nap time |
| 15:00 – 15:30 | Afternoon Snack |
| 15:30 – 16:30 | Workshops: art& craft, sculpture club, music&dance club, dramatic art |
| 16:30 – 17:00 | Indoor/outdoor games |
| 17:00 – 17:30 | Supper |
| 17:30 – 18:00 | Preparing to go home |
| | |
| --- | --- |
| 8:00 – 9:00 | Free chosen activities |
| 9:00 – 9:30 | Breakfast |
| 9:30 – 9:50 | PSRN - Problem Solving, Reasoning and Numeracy |
| 9:50 – 10:10 | Sport time |
| 10:10 – 10:30 | Civic education and Practical activities |
| 10:30 – 11:00 | Funny games |
| 11:00 – 11:20 | PSED - Personal, Social and Emotional Development |
| 11:20 – 12:00 | Indoor/outdoor games |
| 12:00 – 12:30 | Dinner |
| 12:30 – 12:45 | Story time |
| 13:00 – 15:00 | Nap time |
| 15:00 – 15:30 | Afternoon Snack |
| 15:30 – 16:30 | Workshops: art& craft, sculpture club, music&dance club, dramatic art |
| 16:30 – 17:00 | Indoor/outdoor games |
| 17:00 – 17:30 | Supper |
| 17:30 – 18:00 | Preparing to go home |
| | |
| --- | --- |
| 8:00 – 9:00 | Free chosen activities |
| 9:00 – 9:30 | Breakfast |
| 9:30 – 9:50 | CD - Creative Development |
| 9:50 – 10:10 | Sport time |
| 10:10 – 10:30 | DSM - Physical Education |
| 10:30 – 11:00 | Funny games |
| 11:00 – 11:20 | PSRN - Problem Solving, Reasoning and Numeracy |
| 11:20 – 12:00 | Indoor/outdoor games |
| 12:00 – 12:30 | Dinner |
| 12:30 – 12:45 | Story time |
| 13:00 – 15:00 | Nap time |
| 15:00 – 15:30 | Afternoon Snack |
| 15:30 – 16:30 | Workshops: art& craft, sculpture club, music&dance club, dramatic art |
| 16:30 – 17:00 | Indoor/outdoor games |
| 17:00 – 17:30 | Supper |
| 17:30 – 18:00 | Preparing to go home |
| | |
| --- | --- |
| 8:00 – 9:00 | Free chosen activities |
| 9:00 – 9:30 | Breakfast |
| 9:30 – 9:50 | PD - Physical Development |
| 9:50 – 10:10 | Sport time |
| 10:10 – 10:30 | Art activities |
| 10:30 – 11:00 | Funny games |
| 11:00 – 11:20 | KUW - Knowing and Understanding of the World |
| 11:20 – 12:00 | Indoor/outdoor games |
| 12:00 – 12:30 | Dinner |
| 12:30 – 12:45 | Story time |
| 13:00 – 15:00 | Nap time |
| 15:00 – 15:30 | Afternoon Snack |
| 15:30 – 16:30 | Workshops: art& craft, sculpture club, music&dance club, dramatic art |
| 16:30 – 17:00 | Indoor/outdoor games |
| 17:00 – 17:30 | Supper |
| 17:30 – 18:00 | Preparing to go home |
| | |
| --- | --- |
| 8:00 – 9:00 | Free choose activities |
| 9:00 – 9:30 | Breakfast |
| 9:30 – 9:45 | Friendship circle |
| 9:45 – 10:05 | CLL - Communication Language and Literacy |
| 10:10 – 10:30 | Environmental knowledge and Sciences |
| 10:30 – 11:00 | Sport time |
| 11:00 – 11:30 | KUW - Knowing and Understanding of the World |
| 11:30 – 12:30 | Indoor/outdoor games |
| 12:30 – 13:00 | Dinner |
| 13:00 – 15:00 | Nap time |
| 15:00 – 15:30 | Afternoon Snack |
| 15:30 – 16:00 | Science Club |
| 16:00 – 16:20 | Workshops: music&dance club, art&craft club, sculpture club, cooking club |
| 16:20 – 17:00 | Indoor/outdoor games |
| 17:00 – 17:30 | Supper |
| 17:30 – 18:00 | Preparing to go home |
| | |
| --- | --- |
| 8:00 – 9:00 | Free choose activities |
| 9:00 – 9:30 | Breakfast |
| 9:30 – 9:45 | Friendship circle |
| 9:45 – 10:05 | KUW - Knowing and Understanding of the World |
| 10:10 – 10:30 | Speech education |
| 10:30 – 11:00 | Sport time |
| 11:00 – 11:30 | PSRN - Problem Solving, Reasoning and Numeracy |
| 11:30 – 12:30 | Indoor/outdoor games |
| 12:30 – 13:00 | Dinner |
| 13:00 – 15:00 | Nap time |
| 15:00 – 15:30 | Afternoon Snack |
| 15:30 – 16:00 | Brain Club |
| 16:00 – 16:20 | Workshops: music&dance club, art&craft club, sculpture club, cooking club |
| 16:20 – 17:00 | Indoor/outdoor games |
| 17:00 – 17:30 | Supper |
| 17:30 – 18:00 | Preparing to go home |
| | |
| --- | --- |
| 8:00 – 9:00 | Free choose activities |
| 9:00 – 9:30 | Breakfast |
| 9:30 – 9:45 | Friendship circle |
| 9:45 – 10:05 | PD - Physical Development |
| 10:10 – 10:30 | Civic education and Practical activities |
| 10:30 – 11:00 | Sport time |
| 11:00 – 11:30 | CLL - Communication Language and Literacy |
| 11:30 – 12:30 | Indoor/outdoor games |
| 12:30 – 13:00 | Dinner |
| 13:00 – 15:00 | Nap time |
| 15:00 – 15:30 | Afternoon Snack |
| 15:30 – 16:00 | Funny games |
| 16:00 – 16:20 | Workshops: music&dance club, art&craft club, sculpture club, cooking club |
| 16:20 – 17:00 | Indoor/outdoor games |
| 17:00 – 17:30 | Supper |
| 17:30 – 18:00 | Preparing to go home |
| | |
| --- | --- |
| 8:00 – 9:00 | Free choose activities |
| 9:00 – 9:30 | Breakfast |
| 9:30 – 9:45 | Friendship circle |
| 9:45 – 10:05 | PSRN - Problem Solving, Reasoning and Numeracy |
| 10:10 – 10:30 | Environmental knowledge and Sciences |
| 10:30 – 11:00 | Sport time |
| 11:00 – 11:30 | Good manners |
| 11:30 – 12:30 | Indoor/outdoor games |
| 12:30 – 13:00 | Dinner |
| 13:00 – 15:00 | Nap time |
| 15:00 – 15:30 | Afternoon Snack |
| 15:30 – 16:00 | Role play games |
| 16:00 – 16:20 | Workshops: music&dance club, art&craft club, sculpture club, cooking club |
| 16:20 – 17:00 | Indoor/outdoor games |
| 17:00 – 17:30 | Supper |
| 17:30 – 18:00 | Preparing to go home |
| | |
| --- | --- |
| 8:00 – 9:00 | Free choose activities |
| 9:00 – 9:30 | Breakfast |
| 9:30 – 9:45 | Friendship circle |
| 9:45 – 10:05 | PD - Physical Development |
| 10:10 – 10:30 | Speech education |
| 10:30 – 11:00 | Sport time |
| 11:00 – 11:30 | Indigo - mental mathematics |
| 11:30 – 12:30 | Indoor/outdoor games |
| 12:30 – 13:00 | Dinner |
| 13:00 – 15:00 | Nap time |
| 15:00 – 15:30 | Afternoon Snack |
| 15:30 – 16:00 | Boardgames |
| 16:00 – 16:20 | Workshops: music&dance club, art&craft club, sculpture club, cooking club |
| 16:20 – 17:00 | Indoor/outdoor games |
| 17:00 – 17:30 | Supper |
| 17:30 – 18:00 | Preparing to go home |
To enroll in kindergarten, leave a request: